Real Estate Agents
Grand Valley
CASE STUDY
Why complimentary home staging?
A staging consult can increase your sale price by as much as 15%
Vacant houses sold over 85% faster after staging
Resa Studies
What Our Clients are Saying..
"For these clients to have taken the time to do these just means the world to me, my relationships and loyalty to my clients is the cornerstone of everything we do."
Jennifer Jewell
130+
REVIEWS
Cutting Edge
Digital Marketing
Part of providing premium service to our clients means hiring the best. Hiring a professional digital marketing agency to handle our home listings was a no brainer. Yopie.ca is a digital marketing agency that specializes in real estate with a great track record, only the best for my clients…
A Note From Yopie.ca
With over ten years in digital real estate marketing, Yopie.ca has spent millions of dollars advertising the sale of homes and has become an industry leader. Your home will be marketed by professionals certified in everything from Instagram and IHome to Facebook and Google, on over one hundred real estate websites and seven social media platforms, and most importantly, we have the ability to target people that are actively researching homes.
How Advanced is Our Marketing
THE FUTURE IS NOW
We know that every property is unique, with a different location, size and price always being a factor in determining potential buyers. Over the years we've compiled mountains of data on what demographics will sell your home, and sell it fast. Here are a few of the many things we are able to target when looking for buyers:
MY LISTINGS
281163 Sideroad 260, Melancthon
Buy Now & Build In The Spring Or Hold As Investment! 1/2 Acre partly cleared building lot ready for your custom dream home. Located on a paved road in the quiet hamlet of Riverview. Contact me for further details.
441 St Patrick St E, Fergus, ON
Coming Soon! This gorgeous 3 bedroom 2 bathroom home sits on a double lot. Completely redone from top to bottom! There is nothing to do here but move in! Contact me for further information or to book a tour of this home.
795506 3rd Line EHS, Mono
TWO COMPLETE HOMES! 8 bed, 3 kitchens, 5 bath on 18.15 acres in Mono with rolling views, trails, river, solar heated inground pool with Gazebo, outdoor kitchen and underground walkway leading between both residences.
9 Briarwood Drive, Caledon
The main floor features 4 large bedrooms, living room w/views, cathedral ceilings, skylights, fireplace and a huge deck. This is a truly gorgeous property! Located Just 10 minutes to Orangeville.
232 Second Avenue W., Shelburne
SOLD WITH MULTIPLE OFFERS AND FOR OVER LIST PRICE! Congrats to my Seller and Buyers on this gorgeous Victorian. Cool story to this one. The buyer after purchasing found out he is the new owner of what used to be his great grandfathers home. Some things are just meant to be!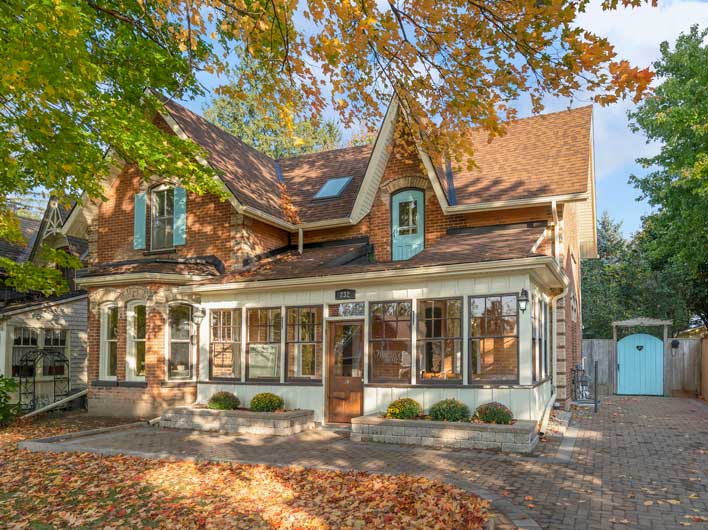 11-5 Armstrong St., Orangeville
Rarely available, located in the heart of downtown Orangeville sits this beautiful 2 bed, 2 bath bungalow unit. The open concept living… space features hardwood floors, granite countertops, breakfast bar, in-suite laundry and a walk out to the balcony. Parking spot is owned.
3 Madill Rd., Mono
This 4 bedroom home features main floor laundry with a walk-out to an over sized 2 car garage. The open concept Living/Dining Room with hardwood floors & bay window. The over-sized Eat-In kitchen has lots of windows and patio doors leading to the deck and huge backyard.
65 Mill St., Orangeville
I am in love with this home! Just steps to downtown Orangeville sits this gorgeous lovingly maintained Victorian with large living spaces, private… backyard, extensive gardens, 4 bedrooms & the last standing Widow's Walk you will find in Orangeville.
4 Samuel Court, Orangeville
Sold! In Multiples For Over List Price! A huge congratulations to my sellers on a quick and smooth transaction!
627458 15th Sideroad, Mulmer
Sold in 4 days with multiple offers and over asking! Congratulations!
4 Young Court, Orangeville
This Gorgeous 4 Bedroom Home Featuring A Recently Renovated Full 2 Bedroom In-Law Suite.
5814 10th Line, Erin
SOLD! In Multiples Offers For Top Dollar! Congratulations to my sellers on the sale of their gorgeous country home.
109 Winterton Crt, Orangeville
Don't miss out on this gorgeous freehold townhome with tons of upgrades.
5700 Winston Churchill Blvd.
SAFELY SOLD IN MULTIPLES FOR OVER LIST! Four Offers and one lucky buyer!
20558 Hurontario St, Caledon
Congratulations to my MOST AMAZING Sellers on the sale of their home!
116 Oak Ridge, Orangeville
Congratulations to my Seller on a smooth and quick sale!
69 Mill St, Grand Valley
I am so happy for my Seller that had to complete the process of her sale during these difficult times.
Years of Experience In This Market
1,000,000+
See Our Listings
GET IN TOUCH WITH
JENNIFER JEWELL
''We knew beforehand, having done our homework, that Jennifer Jewell is a super real estate agent, but we had no idea just how good she is. She is an outstanding top-line agent who brings her many skills, especially in digital technology and marketing, on getting your house noticed by interested buyers in the broader market and sold. Jennifer was incredibly efficient and focused, and she works with other talented professionals, such as interior designers and photographers, to showcase the best in your house and get it noticed by others. It was great to work with her. She is knowledgeable, she was responsive to our concerns, and she provided excellent advice. Our house sold in three days for above our asking price.
We couldn't be happier.''
– Alan Bewell
Chris Almeida
''The presentation brochure she put together was spectacular with excellent photos of the house. She was sincere, prompt, caring, dependable and attentive. I have recommended her to several people since the sale of our house. The Best real estate agent in Grand Valley''
Robin Overy
''Working with Jen was a fantastic experience! She was able to work with us to quickly get our home listed and sold. She surrounds herself with an excellent team that know how to make your property truly shine and attract buyers immediately. I would highly recommend her services!''
Jaime Bradt
''Highly recommend Jennifer. She assisted my grandmother in her move and helped her find the perfect home for her. She made what could have been a very stressful situation easy and pleasurable. Her positive energy and her ability to keep my grandmother at ease was amazing. ''
Dale & Lisa Howard
''We listed our home with Jennifer, she was caring without fault and her market research was bang on. We could reach out at anytime and had a response back in minutes. If you are looking for an agent who genuinely cares about you and your property, call Jennifer Jewell. Thanks again Jen, Dale and Lisa''
Real Estate Agents in Grand Valley Serving You
Grand Valley Realtors Say: Prime Location
Grand Valley is a township in the province of Ontario, composed of the former Township of East Luther and the former Village of Grand Valley. The township is located within Dufferin County and includes a part of the Luther Marsh. The marsh covers over 10,000 acres (40 km²) including Luther Lake. The Grand River is one of the major sites and runs adjacent to the town. Our local real estate agents in Grand Valley are here to help you.
Grand Valley Real Estate
The Grand Valley real estate market is beginning to resemble that of its neighbour Orangeville. Several new subdivisions are starting to reach a few years of age and with that comes the gradual increase in price points.
You can reasonably expect Grand Valley to follow the same pricing pattern that we've seen with Orangeville over the last several years. This is because of the city's ever-increasing size and therefore the lack of affordable housing forcing homeowners and would-be homeowners to the perimeter towns. To add to this they have seen the widening of Highway 10 come to completion which now increases the volume of traffic that Highway 10 can accommodate and the speed at which a person can now commute. With Grand Valley just to the West of Orangeville, a commuter can now reach Brampton in less than 40 minutes. This only spells one thing for Grand Valley and that's an expansion and a rise in home prices that surely won't stop in the foreseeable future, making it a great investment opportunity. Contact us to receive your house and home value from a local real estate agents Grand Valley.
Community and Culture
Grand Valley Ontario was settled in 1855 when the family of George Joyce built the first log house, barn and a tavern. By 1861 the town had their first post office and resident Sam Stuckey was the first postmaster. They also created the first Municipal Council the same year. By the year 1869, the small village had grown to over sixteen residents and nine-plus buildings, by 1870 the first store had opened.
The area of Grand Valley was known as East Luther in Dufferin County, which was separated from the Township of Luther in Wellington County. Some early settlers had to walk at least 10 miles to receive and send mail until they built a post office at Keldon in 1884. Click here to get your free home evaluation Grand Valley.
The hamlet was originally called Luther Village before the name was changed to Grand Valley in 1886. It was part of Wellington County until 1882, then, became part of the newly formed Dufferin County. The urban centre of town incorporated in 1897 to become the Village of Grand Valley. It was not until almost 1997, a century later that the East Luther Township and the Village of Grand Valley would amalgamate to become one municipality. This new municipality was known as the Township of East Luther Grand Valley until 2012 when the name was changed to the Town of Grand Valley. Our local real estate agents in Grand Valley are here to help you.
Still have questions? Please feel free to contact us we'd be happy to help!
Get pre-approved for a mortgage. A pre-approval lets you know how much you have to spend, and locks you in at the current interest rate for up to 90 days or more. This is important with potential interest rate hikes by the Bank of Canada, which may impact your mortgage rate and ultimately, your home-buying budget.
Yes, Dufferin county has a home ownership program. The program is designed to provide moderate income households, with an interest free down payment assistance loan/second mortgage to help purchase a home. There are no monthly mortgage payments for the second mortgage. Repayment of the second mortgage is required when the property is sold.
Talk to a lender first.
Go with a local realtor, they'll know the market better.
Research potential candidates.
Check the realtors reviews thoroughly.
Interview at least three real estate agents.
Request and verify references.
Compare the three realtors contracts.
This is an extensive question with a long answer, the purchase of a first home can be frustrating with grants, programs, mortgages and more. It's very wise to speak with a professional about the largest investment of your life.